How to delete Telegram account on mobile and PC? Delete Telegram account using Telegram app or web browser
What happens When I delete my Telegram account?
When you delete your Telegram account:
All your messages and contacts will be removed permanently

All media and files also will be deleted permanently

Your friends in Telegram will keep their chat history with you. You won't be able to delete the chat history after your Telegram account was deleted

You must wait a few days before you can create a new account with your phone number

Your channels and groups will continue to function normally, the existing admins will retain their privileges.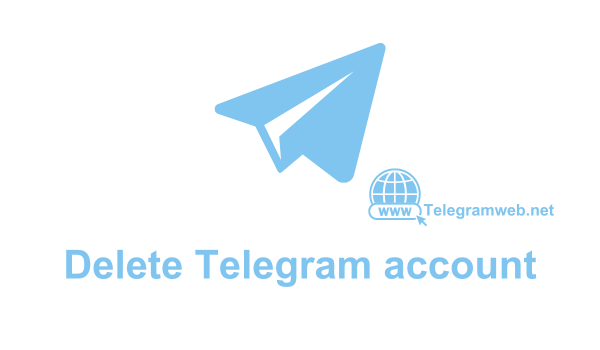 How to permanently delete Telegram account instantly
Delete Telegram account permanently on iPhone and iPad
Open Telegram app, tap on "Settings" at bottom right corner → "Privacy and Security" → "If Away For"
Tap on "Delete Account Now" to delete Telegram account right away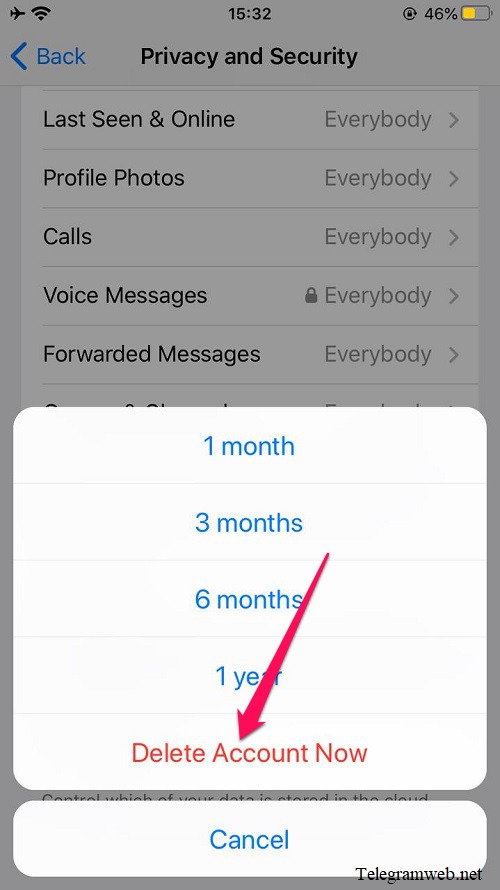 Telegram will suggest you some alternative options for account deletion as if change the phone number or login multiple accounts
If you still want to delete Telegram account, Scroll down and tap on "Delete My Account"
Telegram will continues to hold you: all your messages, media and files will be deleted
If you still want to delete Telegram account, tap on "Continue"
Enter your Telegram phone number and then tap on "Continue"
Note: Using the international format: +(country code)(your phone number)
Finally, tap on "Delete My Account" to finish
Delete Telegram account permanently on any device (iPhone, iPad, Android, PC, Desktop, macOS, Linux)
Use web browser to open Telegram Deactivation Page: https://my.telegram.org/auth
Enter your Telegram phone number and then click on "Next" button
Note: Using the international format: +(country code)(your phone number)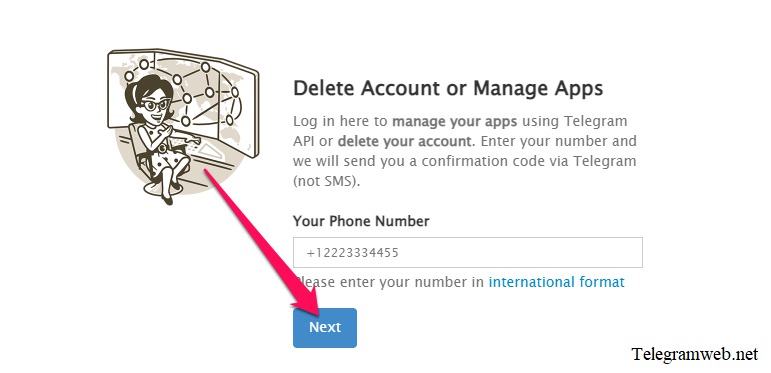 Telegram will send login code to Telegram app (not SMS). Enter it to "Confirmation code" box
And then click on "Sign In" button
Continue to click on "Delete account"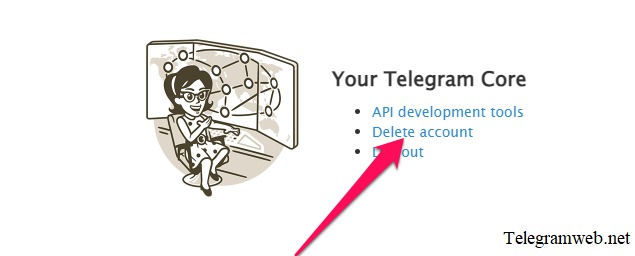 Telegram will suggest you alternative options for account deletion as if change the phone number
If you still want to delete, click on "Delete My Account" button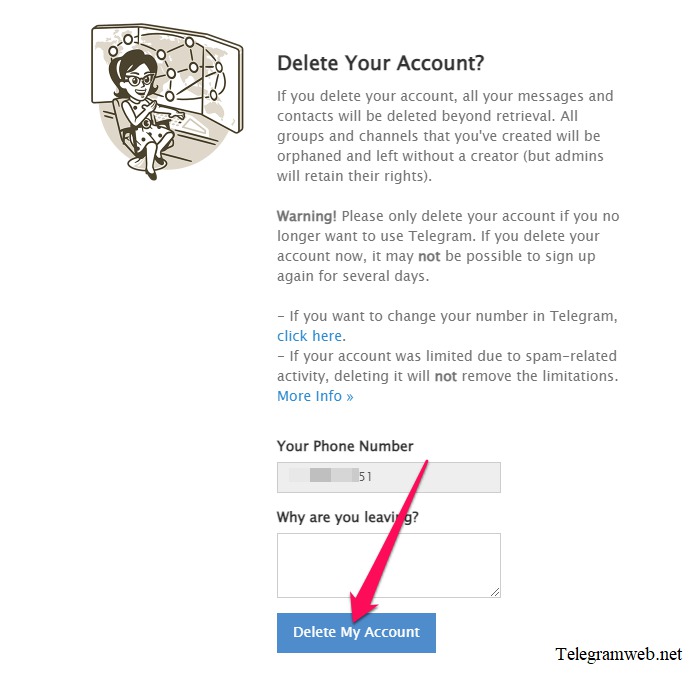 Finally, click on "Yes, delete my account" button to delete your Telegram account permanently
How to delete Telegram account permanently using auto-delete time
Delete Telegram account on Telegram App for Android
Tap on Menu (☰) → "Settings" → "Privacy and Security"
Tap on "If Away For" and then select the auto-delete time (from 1 month to 1 year, default is 6 months)
After auto-delete time, the Telegram account will be delete permanently
Delete Telegram account on Telegram App for iPhone / iPad
Open Telegram app, tap on "Settings" at bottom right corner → "Privacy and Security" → "If Away For"
Select the auto-delete time (from 1 month to 1 year, default is 6 months)
After auto-delete time, the Telegram account will be delete permanently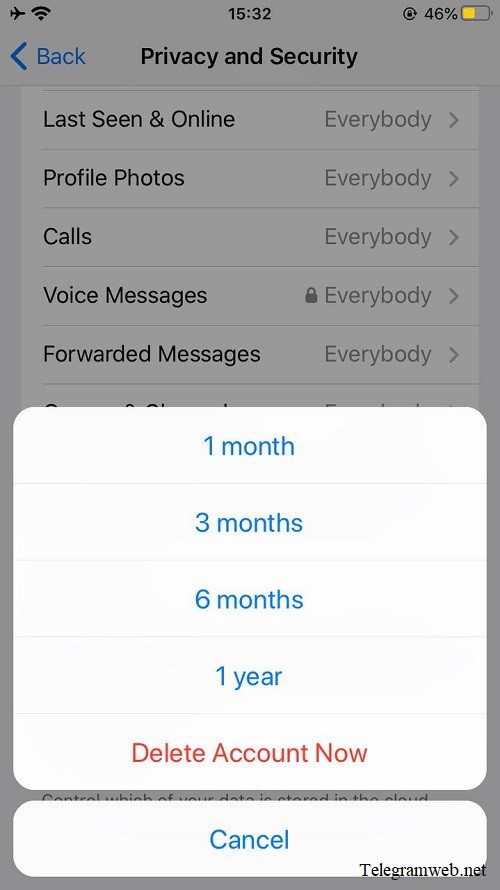 Delete Telegram account on Telegram Desktop
Open Telegram app, click on Menu (☰) button at top left corner, and then click on "Settings"
Continue to click on "Privacy and Security" from the Settings window
Click on "If away for…". Select the auto-delete time (from 1 month to 1 year, default is 6 months) and click on "Save" button
After auto-delete time, the Telegram account will be delete permanently